Upto date NEWS
The views on this web site are those of the owner (me)unless tagged with a name.
from Malx

at

£3000 raised for Nelsons Journey charity
2017
All dates booked so far for 2017 are now on their own page.
Extra dates will be posted on our face book page with as much notice as possible.
We are running 3 rounds of a grass roots drift challenge sponsored by Diemax.
We have the return this year of the Charity Weekender June 10th and 11th
with the main event being the top 16 drift comp on the Saturday night.
norfolkarena drift team.
2016 has seen the team and all our friends
really busy with 28 events at norfolk.
many thanks to all our supporters.
Our Face book pages are;
norfolk arena drift team fan page.
and
norfolk drift team (sale items only)
2016


Norfolk

arena Home page.
So we have been well booked
up for all our days this year, sadly no
norfolk weekender this year
but we will have a few extra
events running, we will be having a limited
numbers comp track practice day
on the 2nd July, on the sunday we are
hosting the first ever Forces drift day.
NADT will be running everything for them and
regulars to pop along to watch and
Next drift day Feb 20th.. fully booked reserve list running
Welcome to 2016, and another season with the
some changes at the end of 2015 have seen us struggle
for dates this year with the expanding speedway
page with 2016 dates and views in the index.
Our first date is 23rd january and we are running
as normal,
news of any price rises will be posted as soon as we have
confirmed all details with the stadium owners.
OVER £2000 raised at the charity
weekender 4th and 5th July,
well done to all our freinds and
supporters for you great efforts.
We are
well into the 2015 season and already
we have had 3 events, sadly we lost a dear friend of norfolk
and one of our togs on the 19th of
Feb, we managed to do a tribute day and the vid is on
our face book page, NADT were high in numbers
at the funeral for Mark Callf, and we opened
up the stadium in the evening to celebrate his
life with cars and drivers making the night special.
We are well into our plans for the 4th July charity night
(part of the weekender) and this year is for the air ambulance
charity, a few of our members have been saved
by this great service so we would love to pay a
Planned are the normal antics during the day for drift practice
followed at 6pm by the opening of the stadium
to all that want to come along and watch the top 16 drift battles,
we will also be welcoming the Elite Outcast car club
along with there members and show cars, also planned
is a 2100BHP dragster, hopefully doing a proper burn out,
AND if you fancy a ride in that there will be a passenger seat
fitted, highest bid gets the ride money goes to our charity
All money raised, and be great to top last years total
will be donated in the name of Mark Callf, a fantastic
trophy has been made by our friends at Diemax
and the winner will keep it pride of place at home for a year.
What a great way to end another year of drift days at
Norfolk Arena
with a full grid of cars and hundreds of spectators
all joining in with our festive theme and again raising
money (over £600)for our chosen charity.
I apologise for not really posting or updating the web page
or the Face book sites and will try harder
next year, thankfully my trusty team are normaly
quick to answer any questions.
Once again my thanks go out to everyone that supports
us and also those that give up so much of their time
to help out and not just on the day, i have pushed
my luck abit this year and thankfully everyone has stuck
with me and the team as we 'norfolk drift team on tour'
We have taken over the running of the Run the wall at
Swaffham and both days have proved sucssesful and
brought some new people into drifting from other sports,
including the car clubs and support from Cattie and her
loyal band of followers at Outcast elite
who organise car meets and cruises,we welcomed them
all to our drift days and a few are already building drift cars
i don't advertise as its a personal thing... but we have
also over
the years tried our best to help out different
organisations by
offering a few passenger rides to those that
never really get the chance to
live their dream like we all do,
we don't discriminate and try our very best to treat
everyone the same,the atmosphear that is greated by
norfolk drifters
and there teams,family and friends is a fantastic
buzz and helps
so much in what we do,if we stop track
for a 'special' passenger ride, or a few laps behind the
wheel for our guest everyone fully understands
what i and the team are doing and we thank you for
your
understanding, that for me is the life blood of what we do.
I know i speak for all the team when i say once again
thank you for everything,your support,your freindship and for
On Sat (20th Dec) we raised money for the alzheimers charity
and as said
over £600 was collected, the donation's for prizes
from everyone was fantastic over 40 great items,the owner of the
stadium and my good friend was at the raffle and was
so full of
praise for you all and the fantastic attitude you all bring to his stadium,
and when you understand all the sports and events that are carried
out at norfolk arena you should all be so proud of yourselves that
you
are flying the flag for drifters and for norfolk arena drift team.
With that in mind dispite the woe's of this country and wages not
rising etc
we will not be putting up our prices next year so many thanks
to Buster for continued support.
so were has the year gone? or years?
2015 marks for me 10 years as norfolk drift team,its been a challenge
from the early days but never a task,i have been blessed in meeting
new friends and of course my lovely partner 'minnie'who has pulled
and herself had a few hurdles to over come but has kept us all
(A and B line normally) and in no order as they all work so hard
Sam,Fiona,Callum,Tom,Graha
m,Sain, Brian,Andy,Charmaine,
Stuart, Damon,
Sorrell,Ash and Tash.
also our resident togs and special mention for Lewis Collard for
great pics and also the Mr Impact Team for DVD's
Diemax, Peter,Pyill and Steven Donnelly for sponsoring so many
events and looking after us....
i will add as i am bound to have missed someone and apologise as
Please carry on posting on the FB pages and as many likes as we
Merry Christmas to you all, see you 2015
---
The norfolk drift team are at the request of the former
promoter's now running the Swaffham drift events.
We are also running along with Katie at Outcast Elete
A charity fund raiser Car show on the 27th September.
Car show starts at 9am at the Swaffham Raceway Norfolk
Many comp's during the day
Sound off, show and shine ETC.
On track demos from the swaffham oval race formulas.
The drifting is a seperate event and the costs are as follows;
passengers for the night (non driving) £5
We have now compleated our ODC rounds
and the top of the points goes to
News of the finals as soon as we receive them.
News from HQ
We are proud to say that thanks to all our
team at NADT we have reached and exceeded
our charity day target, Our sponsors
Diemax having a major part in procedings
with support and throphies, some fantastic radio coverage
from norfolk radio helped with our crowd on the
night,and our special guests were on fine form
licking everone they could see, yes the guide dogs, Preston
and Susan...
final count from the evening £2709.
all of our staff drivers friends and family once again
were top notch and we are proud of them all..
weekender 2014
First run of the year for the ODC quailifying ran well on May 10th
Some really good driving showed by very good scores including
2 drivers scoring 29 out of 30.
List and scores will be posted soon...
This years charity fund raiser is for the guide dogs for the blind
(Kings Lynn Branch) more details coming soon
We have now finaly test driven the ford pop,
Norfolk drift team on tour to the Crail raceway
in Scotland at the request of our long time sponsors
All going well following a 'few' long months for our good friend JIM
who has totaly 'fitted up' and compleated the 59 Pop.
With the dates now out for the rest of 2014 following
the very busy Jan drift day we can now start planning further ahead,
there will be a few extra dates during the year as spaces in the stadium
calender change, and we will be doing a few bring and buy sales
along with Gyhmkana what you brung! days. more
details will be posted as we get confirmation of extra dates.
We would like to wish all our team members and supporters a very
Merry Christmas, and a great New Year.
massive thanks to all following a poorly spell for me for keeping
norfolk running, you guys are epic....
NO PRICE RISES PLANNED FOR 2014
THATS NO PRICE RISE FOR TRACK DAY IN 8 YEARS
Our final track day of 2013 is December 14th..
we will be holding a raffle during the day with the
procedes this year going to
TEENAGE CANCER FOUNDATION.
Our loyal sponsors Diemax have donated a cash prize
this year along with some other great prizes for
which we thank them kindly...
A blog has been createted by
Graham BlackbirdPhoto Watkinson with the drift team a strong
feature, follow on Face book and feel free to add your comments
We also welcome another company keen to help out
norfolk drift team members, UK towbars are situated
in March (Cambs) and have all details on there
Unit 3, Gravel House, Elm Road, PE15 0BH March, Cambridgeshire

www.uk-towbars.net

new for this year norfolk team wear...
Polo shirts are £15, and thats with logos and name /number.
Contact Paul direct or PM Malx for details and orders
We have planned a Gymkana event after the 24th August track day, no horses will be used!
The course will be set up during the early evening break, the cafe will stay open for food.
We will see how it all goes with a view to making them a regular feature at norfolk, we have had agreat intrest already and we will be letting FWD cars have a go, we plan to charge £10 per person and that will entitle that driver to use any car! and also a Burger of the evening BBQ, we will run 2 cars at a time on seperate tracks and we will also present a Certificate at the end of the event, we will be running from 6.30pm untill dusk (aprox 9pm)
What a fantastic night we all had on the charity fun night, all 3 drivers on the podium norfolk regulars and over £2500 raised for charity,
Full report and pictures to follow,,,asap
ALL norfolk DATES ON THE HOME PAGE
JULY 13TH
IS NOW BOOKED FOR THE NORFOLK DRIFT TEAM
CHARITY AND FUN NIGHT, NORMAL DRIFT PRACTICE DURING THE DAY
THEN FROM 5PM THE FUN STARTS,TOP 16 DRIFT DEMO BATTLES BY 16 TOP FLIGHT BDC DRIVERS, ITS ALL FREE TO SPECTATE ... YES FREE....
PASSENGER RIDES WITH MONEY GOING TO THE CHARITY.
CAFE AND LICENCED BAR ALL OPEN FOR THE NIGHT ....
AND ALL THE USUAL NORFOLK BANTER AND FUN, DONT MISS IT.......
We are looking to run a few fun drift challenges this year,
A
Very Happy New Year to All our Friends
And Members, Roll on 2013
first drift practice day 2013
Despite the fact that Norfolk Arena looked like a lake for much of the day
we had a fantastic
turn out of die-hard drifters.
The staff presentation was the highlight for me, but i did get caught out half way
through by the Team and a superb trophy
made by the DIEMAX team (cheers Steve, Phyl and Pete) which was unexpected
but I would like to apologise for forgetting to mention the efforts of the Hawkins family who have supported us throughout the year with marshaling duties, THANK YOU guys!!!!!!! :-)


The raffle was a massive success raising around £400 to the Hospital at Home charity and we'd also like to mention Lewis Cracknell's efforts as he managed to raise £15 by washing cars as they came off track :-)
We'd also like to thank our army of regular drifters who never seem to tire of our little track, come rain or shine they turn up to challenge themselves and have a good time with a great bunch of friends. There are too many to mention, but you all know who you are, Without your support there would be no NDT so Malx and I thank you :-)
Quote's from our long serving regulars.
Well, that's it for this year, last Norfolk practice day of 2012 and what an absolute hoot it was. Thank you once again to EVERYONE involved in making Norfolk days a pleasure and honour to be part of. Weather, you'll have to try harder than that to dampen a Norfolk Day!!. Merry Christmas and a Happy, Healthy and Prosperous New Year to all friends at Norfolk. See you in 2013
Big thanks to the NADT crew,the sponsors,volunteers and everyone who attends,
been a brill year thanks to u all, merry xmas and see u nxt year.
The people behind the scence running about in the rain are the real stars...we just mess about in a car with the heaters on
Only started Drifting in august this year first day at Norfolk and only missed one day since, Thanks to you and all the team for being so friendly and welcoming cant wait to come back and hopefully have a dry day in 2013
We love and we love you guys too xxxxx , we couldn't do it without you
So here it is Merry Christmas every body's having fun, to qoute Slade, and so we will on the 22nd
as we see out a busy and fun packed year at norfolk arena.
We are, as always having a raffle to raise a little bit of money for good causes and this year its Minnie's
''I would like to donate this years raffle money to a charity which provides
t
he most amazing service to a small number of people.
Hospital at Home is a charity which provides 24hr care support to those who
are end of life and who wish to die at home rather than in hospital. They look
after anyone over 18 and give the most fantastic one to one care in people's last
few days or weeks of life. They also support the families through these difficult
times and enable people to remain at home with their loved ones to the end.
Any donations to the raffle will be greatly received. Tickets will be £1 per strip
and sold on both the 15th and 22nd track days.
Many thanks (in advance) and much love''
Minnie xx
Next track days are December 15th and 22nd
TWO dates in December as listed Above, the 2nd is a fun day with decorated cars and clipping points, it will be cold, it may well be wet, there may even be snow, but we will have a laugh no matter what!
BOOK IN please in the normal way, or if a new comer to norfolk e/mail to the address below.
Yes that is Brian working!!!
we do have a problem in the wet as its just a touch dirty on track!
but we do offer the chance to rinse off the car for you before you go
home, unlikely it will be Brian though! unless you bribe him with pies...
King's Lynn's Norfolk Arena has been named the joint Elite League (speedway) track of the year
at the sports AGM over the weekend.
It's the second year in a row that the Norfolk Arena has received the honour,
and this season they share the award with Wolverhampton's Monmore Green racetrack.
Over the course of the season, racing at Saddlebow Road has been at it's highest and
that comes down to the dedication and craft by promoter Buster Chapman, but the award is not
only for the track but also for overall presentation of the Stadium and the meetings.
In 2013 King's Lynn will be aiming to make it three years in a row as the best track in the country.
We have to thank the staff at the track for the endless work keeping the stadium clean and tidy,
Sweepy works his socks of cleaning the track (even i get out now and again on the tractor brush)
and the terraces so that we can enjoy a day at norfolk drifting, and if its wet! and we have had very few 'wet'
days over the last 6+ years,
But if it does rain we have the permission and blessing of the owners to wash cars using the tracks jet wash
before the long drive home for drifters at norfolk.
Nov 2012.
We have just returned from the annual dinner dance for the BDC (British drift championship) get together to celebrate the winners and the year end, we did as a team win the 'best entertainer award' i say team because i always have minnie doing the hard work right behind me in the pit area and Ammo belting about all over the place to help us both, we run pit, grid, and track, its hard going but enjoyable and as i have said a thousand times the drivers are the best bunch going and help us to make it the best(probably) run drift championship going.
The support on the night was a humbling experance for me, as we just help out, the real stars are the drivers and the cars, so that made it all the more special,
We are in talks (NOV 2012) with the stadium owners for next year (2013)
this includes some ideas we put forward in mid-season, more weekenders are planned as well as some gymkhana's, a few 'week day's' drifting!
fun nights and of course the top 16 Demo battle charity night,
I will be looking to do a passenger ride day as well for the locals, and any regular spectators,
this will be for invited regular norfolk drivers only.
Please FB message or e/mail me at foskett.m@sky.com if you are intrested in any of the above.
Sad news for norfolk regulars is that BDC have decided not to run a round of their championship at the King's Lynn track in 2013,
With the weather again in our favor for the October 13th date the track was in good shape and
suiting
a tight line and plenty of tyre smoke, we have over the years had some regular long distance
drivers
come to enjoy a day at norfolk, 200 hundred miles each way is not uncommon, 900 miles round
trip is
epic, so we welcomed the Donnelly's from Scotland for the weekend with Steven and his BDC spec
Steve, Pete and Phyll Donnelly are already good friends of norfolk and were the very welcome
sponsors of the white BMW school car that we have used to great effect this year,
DIEMAX precision engineering is their business and company,
If anyone needs some parts 'made' visit their web site and when you speak to them let them
know you are a norfolk team member!
so this along with a record number of Very Young passenger rides, a great day had by all,
We have an extra date for November 24th, all bookings as always Via Minnie please.
Another good day had by all at the 8th Sept event, we will be
at the 13th October 2012 as our next event, please note that all events are BOOK only, booking in details are on the home page.
An old friend of ours from the race ovals has been to check out the drifting, and he liked,,, so he is now booked in at norfolk for a few 'trips', his hobby as you see below is to draw race cars in his very own style, we will be able to see a drift car example very soon but if you would like a drawing done of your car, or a favorite car you follow, Zak Stace will be able to help, PM me on face book or e/mail and i will pass on contact details, and as ever the price will be 'norfolk style'
We are pleased to announce that the weekender was not just great fun but also raised over £2000 for Scotty's Little Soldiers, a great effort from all our regulars as well as all the guests that turned out to help us, thank you....


New Weekender page on line NOW


Please have a look at the TOG's pages
we have always encouraged new photographers at norfolk, we also now have a regular bunch all taking great shots at the track days, many now have a page of there own on this web site, they are looked after by Our head of TOG's Kenny Hawkins.
We are pleased to announce that the weekender was a great success, raising over 2K for the Scotty's little soldiers charity, bringing hundreds in to watch us messin around and having fun, the top 16 BDC style demo battle was something else and the finals were as good as we have seen anywhere this year, once i get rested!! i will open up a page, as for next year, we will see.

NEVER SAY NEVER!
The weekender is getting close, and the BDC top 16 will be a battle!!
3 super pro's booked, so a chance for some Pro and Semi pro's to dice with them on a sweeping fast track layout.
norfolk drift team on tour,
The BDC roadshow lands at norfolk in JUNE, the drift team will be on hand to help out, those of you that follow BDC (british Drift Championship) will know that Minni,Ammo and myself have been helping out for a few years and we now help run pit,grid and this year the start line as well (and recovery) its a great job and we enjoy the banter with all the drivers, just over 100 cars are booked in so it will be a busy few days for us, but we would really like to see as many of the norfolk members in the crowd as possible, we also have a small compond that we can use to meet up with a great view of the pit gate turn, follow the BDC at norfolk on our face book page, SEE YOU THERE.
the king of the ring is held at the essex arena near the dartford crossing, minni and I popped down to help out our mate from the BDC Japspeed team Baggsie, (May5th), with a few let downs we stepped up to help out on track, good night was had by all, Damen Haskett made the trip and got to grip's with the track, not for the faint hearted though!
With the weather forecast looking bad all week i was not expecting a full house, BUT thats what we got, even during the friday night the rain didnt stop, the track was a touch! wet, but we still managed to run as normal, and a rise in numbers of passenger rides as well, with everyone seeming to enjoy the wet and mud! it was like rally X for the first half of the day, as ever the staff tramped about in the wet and it all went well thankfully, in 6 years we have never had a total wet practice day, and at 2pm the rain stopped and by 3.30pm we had a dry line and by 4 pm tyre smoke was back at the norfolk track.
A massive thank you to everyone that braved the elements, TOG'S for taking pics and for the continued support from buster the owner, see you all on the 12th May.

Our first away day or 'norfolk drift team on tour' to Skegness has been and gone, and enjoyed by all those that made the effort to get to the Lincolnshire track on the 24th March, the pic's and another great vid from Mr Impact, who turned up to support, are on the face book page and will be uploaded onto the site asap,
we did find that tyre wear was more than norfolk, but that's to be expected as we were running on the race track tarmac, with Minty busy we had a local tyre fitter, and stock car driver step up to help us out, so thanks to Stuart Hodgson for that.
I will be looking to do some more dates, probably Saturdays, and details will be posted with hopefully a little more notice.
With my passion for the Ovals these days would be a compliment to norfolk, not an alternative as norfolk is 'our home' its just nice to visit somewere else now and again, with constant noise issues at other venues the drift practice days are always going to be looked at by local councils, so it is important that we stay in there good books and offer help were necessary.
Skegness track has had a new section of tarmac laid across the infield and we managed to incorporate that into the day,
we are also looking at helping out with a few demo's for the holiday makers when they visit the stunt shows during the summer months, So thank you goes to the owner Hazel and stadium manager Steve for helping us out.

We are off to the Skegness stock car track on Sat 24th March to try out a drift day for the owner, all are welcome, no charge to watch,
We are hoping to be able to help out and sort drifting practice days for them.
As a starter they will be charging £30 per car and driver, the track is an Oval and that does mean that the track is boardered by a concrete wall, there is a cross over through the middle that will make it a challange, it is possibly \NOT\ best for any total novice driver's but there is a wide amount of tarmac,
Details are on our face book page.
Gates open from 8am track open at 9am close 4pm
Drinks and food from 11am.
We are looking to run a fun drift weekender and the proposed date is the 28th / 29th July
Last years 'fun night' was a great and we are looking to go a bit further with this idea at the weekender, News will be updated as soon as I can confirm the date. (21/2/2012)
We are now fully booked for the March 10th drift date after just 10hour's
We will be running a reserve list, book with Minni please.
we are also on Face Book, norfolk drift team fan page.


I have to report that we, norfolk arena, will

not

be running the ODC rounds this year, following a massive push last year by all of the staff, our drivers have shown great promise and will be representing us at the 2011 finals, at Silverstone in March this year.

FEB 11th date has been moved to the
18th FEB 2012 due to the ice-breaker banger meeting being cancelled.
All drivers are asked to rebook through normal channels.


Happy New year to all our followers,
drivers and families.
2012 is here.



minnie posing for our calender shoot!,

After a few years away from racing i will be back out on the ovals for 2012,
a swan song i guess, as retairement looms,

I will be campaining a Classic modifide 3ltr Mk1 (60's) Cortina
The season will be covered by retro Ford magazine and the
Stock Car heratige magazine.
And Flying the flag for the norfolk drift team along the way, most events will be at Swaffham raceway in Norfolk.



Yes he really is drifting in DECEMBER with
''the top down"


CLICK on the link for as look at the 'wet' track day 17th Dec 2011



http://www.youtube.com/v/xTOq2BwHK8E?version=3&feature=player_detailpage">



A good turn out of over 36 cars for the last drift day of 2011, many regulars
were away
shopping but the die hards! were still out in force, with the weather turning 'rather
cold over
night the roads around norfolk were 'slippy' to say the least but all the staff managed to get
to us along with drivers from all the surrounding counties,
We had a dinner break (1st one in 5years) for a Christmas Raffle, Phill Crackers idea and first up to add prizes to the fund,So a big thank you to all that chipped in, Japspeed offering up a free day at norfolk for next year as well as our's so in all a great effort and ALL monies going to the Cancer charities.
I also wanted to say thank you to all our staff members as well, and as a surprise had some plaques made, sponsored by Buster from the stadium and TRACK STAR the stock car promotion.
nice for them to see all the drivers and family show they are also respected for what they do.
We also managed to sticker up minnies car, well Ammo and Ian did with some graphics for the stadium, just to say thanks for the support they constantly show us.
It was the first all wet day we have ever run! but there were hints of tyre smoke near the end, we now its dirty though this time of year and we always offer to wash the worst off for the drivers that have to DRIVE home, like to stay on the right side of the Law...
We are still waiting for some dates for next year although we can run a few in January, why would you want to?? but i know most of the drivers will!
So from me and the team
Merry Christmas, and i hope a great New Year, hope to see you all in 2012

The Drift team staff were on hand to help with the BDC licence day at the arena on 3rd December,
a total of 30 drivers having a slippy start to the day but after an hour or so the speeds increased as the track dry'd out, we were represented well with 5 norfolk regulars,
Lee, cowpatt matt, gaining semi pro, and Ross Gregory driving through a miss-fire a very well deserved pro, well done to all the drivers and Yassa just missing out, harsh but sure he will be there at the next attempt.

we also welcomed our good friends from Scotland, David Waterworth and his crew,
Team Scott Drift.
There 1000 mile round trip made all the better with their young driver STEVEEEE
gaining a semi pro licence on his first trip to norfolk and his first attempt for a licence.
I have made them Honourary norfolk members

'Scottish Division'

their spirt and fun nature making them fit in so well with everything that is norfolk,
The

Team Scott Drift

have also sponsored us so that we can carry on teaching and bring new drivers into drifting,
I can not thank them enough.

The norfolk drift team were well represented at the BDC annual diner dance held
in Coventry on 19th Nov 2011, A worthy mention for our ever present Ammo from the
promotion, and a very well receved special recognition award for Minne for her hard work in the pit and grid for BDC this year.
http://taysilla.blogspot.com/
Follow the link above and read all about it and see ammo's pics on our good friend Lozza@s blog.
You may even see me in a suit!!!

http://vimeo.com/32153121
Click here for Minnie's birthday track vid, by Laura.From the Nov 26th track day.


BDC are running a licence day on the 3rd DEC so we are moving our Dec date to the 17th.


OCTOBER practice day sold out in 3 day's.
Norfolks own radio station KLFM will be sending along their Breakfast show hosts to see what we get up to!

Dont forget that we do NOT charge spectators.
Please follow us and tick the like button on face book, we are
norfolk drift team.
Norfolk arena Practice days 2011 on the news page.

(Oct 2011)
On a personal note,
I have over the last few years run the drift team with the aim of getting
New drivers into drifting by running days at norfolk, thanks to the owners
we have had a low fixed price since we started in 2006, and along the way
we have made hundreds of new friends, run fun events and worn out 6
school cars!!, i decided at the end of lastyear that i fancied competing
so
we looked around for a car, sadly the Lexus project was cancelled a
following a few let downs with the POP project all budget went so no track car,so
the s13 we started will now be minnies new passenger ride car, the lads at J_R_Ford
doing a real nice job on it and should be ready to test on 15th Oct.
We have the pick up truck which has been made from one of my spare cars, the finish
was just as i imagined it to be and it is a great advert for us and for the Cunninghams, and already very popular.
Marc Huxley, bless him has offered to finish the POP which was always going to be for
promoting norfolk, at trade shows and demo's so we are on the look out for a sponsor to
help finish it, follow the part 2 build on SPONSORS Page



The new fun passenger ride BMW at norfolk, built by
Cunningham autos
just for us, here is a word from our sponsor.

Cunninghams Garage is a 3rd generation, family run Village garage based in
Hempnall, which has occupied the same site for over 75years.
Having developed and grown significantly over the years Cunninghams is
committed to customer care, providing a fast, friendly, professional and
most importantly a personal service. Offering an extensive range of
services for all motoring needs including Mot Testing, Servicing and
Repairs on Cars, Motorcycles and Quadricycles.
Cunninghams Auto are also the Sole Uk importer and Distributor for Secma
across the UK. Focusing on sales for the Four main Secma models the
F16, QT440DC, QT500 and FAMILY Four, other models including the Qpod, Fun
Buggy and Fun Runner are also often available second hand. Secma vehicles
are available for hire for advertising and promotional purposes. They are
easily customisable for your own business needs and attract a lot of
attention.Secma parts and accessories are available being despatched
nationally and internationally on a daily basis.
The philosophy at Cunninghams is to help if at all possible and those
values are paramount to our daily work.

Cunnignhams Garage are extremely proud of the modified Drift Taxi donated
to Malcolm and Norfolk Drift Team. Converting the BMW E30 may have taken
some time, with a little blood, masses of sweat and a few tears, combined
with a little imagination and lots of hard work Cunninghams proves
anything is possible!

The first guests, Vicky, Little Grace and brother Tom having
a ride around the staduim at the Sept 10th event..
And below, the extra passenger seat, just for do-nuts but fun
all the same.




NEW DATE Saturday November 12th now replaces
the origanal date 19th.


September 10th track day
We are now fully booked for the drift track day,
we will be closing the track at 5pm to tidy and ready for the
cruise fun night.
The fun starts almost straight away as we welcome all car clubs and owners
of modified road cars to norfolk arena for a car club cruise night,
We are running track activities and the cruise is organised for us by the
west suffolk cruisers,(Damen Haskett, organisor)
we Will be using the hard stand car park areas (cafe side) for all show cars,
The show and shine and POSS sound off will be judged in the 'show area' car park
The burn outs and car tug of war will be in the main arena,
We as ever at norfolk are keeping costs as realistic as we can and with the the support of the stadium we are charging

£5 for over 12>>> free for under 12 anyone that has purchased a wrist band during the day will also receive FREE entry
There are

NO

parking charges,
we have full use of the stadium, including the bar and cafe, also BIG BBQ will be fired up for us,
WE will also in the main arena have drift car passenger rides at regular intervals.
TIME TABLE for on track
Gates open from

5.30 pm
Drift taxi rides from

6pm

,(donations to the drivers)
your chance to have 3 laps of the norfolkdrift track with some of the norfolk regulars in a variety of cars.
7pm
Car tug of war and burn outs
7.30
First round of the TOP 8 DEMO twin drift battles.all drivers guesting from
the British Drift Championship (BDC)
8pm
drift taxi rides
9pm
finals for the TWIN battles.
followed by top 8 all drifting together!!!
10pm
parade of show cars on track
(times subject to change but will be announced over the PA system)
TIME TABLE for off track comp's will be advised on entry to the stadium.
BIG Nath will be 'on' the music and the mic!
__________________

THE

norfolk

arena

DRIFT TEAM Organiser
Projects page updated 14/8/2011

Burton Power to help out with the

ford POP project (July 2011,)

Huxley motor-sport helping out with the pop(Aug2011)

see details on malx project page.

Next up for the norfolk drift team will be Knock hill round for

the BDC 20th 21st August

we also have a Q-pod to use as a pit patrol from our good

friends the Cunninghams, complete with trailer we will be

towing behind the camper.

norfolk drift team on tour!





latest vid from norfolk on dvd page


August 13th track day. just one of many nice comments we have received.




tail slider

Join Date: Dec 2009

Location: Colchester, Essex area

Posts: 133

Awesome day once again, and a massive amount of seat time too! Thanks to all the event staff,

another text book drift day

__________________


We really didn't expect too many cars at this event with it being peak holiday month, but we also did NOT expect buckets of rain, incredibly the first Rain start we have had, but the look on the drivers faces said it all as they managed to get round, (track at 9am)
Heath McGoldrick in his BMW


and although no tyre smoke were really enjoying the challenge.
As ever at norfolk as soon as the rain stops dry patches appear within minutes and
within 20 mins
the dry line was there and tyre noise was getting stronger,
Jamiequinin his S13, yet another new driver to drifting starting out with us at norfolk, and doing very well.

(track at 10.30am)


(much the the relief of the tyre fitters!)
I have for the last 2 track days stepped back a bit and have been 'training a trainer'
Chris Hawkins


has been a supporter along with ALL the family of norfolk for a few years and Chris
has become a great driver, and a great mate, i have been impressed with his
willingness to learn and he has picked up the basics of teaching really quick, so i have
been able to take a rest! whilst the youngster takes a turn!!
ALSO
Dad, Dave H


has been running the start line so well. we dont let him off the track all day, and brother
Kenny getting some monster picks has left Ammo time to skid a car for a change,
so from ME a massive thanks to the Hawkins family they a big part of what we are all
about at norfolk,
Kayleigh was on hand again talking everyone to a standstill(LOL) and organising what was the
last round of the ODC, so well done to her for hard work all year.
Brian once again eating all the pies, we hid the gigantic smarty topped cake him, home
baked by Mum Hawkins,XX
Even roped in Sophie to help out at this one (child labour!)
Minni taking over the passenger rides, 10 sets of rear's so i guess prob did a few laps!!!

Normally Chunk and Nathan judge the ODC runs so for this one with Chunk not able
to get to
us Nathan and I judged for the last round of the year before the final in OCTOBER
(Date TBA) at Mallory Park.
We will be toting up the scores and we will announce asap.
AND


another new recruit to drifting and one to watch in the future, MATT CROSS
still a youngster but showing signs already of a good drift talent, and takes pics AND
takes some good vidfootage, add Matt onto your face book site or see his vids on you tube.
(and Dad is getting into it as well)

AWSOME FEST 2011


Norfolk drift team were on hand again this time at the Awesome fest

July 2011 organised by our good friend Bob Inglis and Driftworks,

Brian and Ammo on hand with the track preparation and the team running the pit

and recovery,

with the help of our sponsor, Cunninghams Garage





Our friends at Cunningham's Garage were on hand, Kevin,Lucy and Glen working along

sidedrift team and supporting the event with the loan of the Pods, not just for us,

and

they were well received, but also for the Maxis Girls to drive around the site

handing out

stickers and leaflets.

a great event and we hope to be invited back next year (July 2011)





and thanks to Simon for helping out the team

all weekend with the recovery

JULY 23rd
Once again a 50 car turn out for the july practice day, and once again NEW drivers, not just to norfolkbutto drifting, with a dry day andnotto much wind the track was bedded in very quickly and this makes for lots of noise and the drifters favorite, TYRE smoke, this also keeps MINTY tyres very busy.
Despite many other events over this month for us to get a massive turn out is great for the stadium and for us, we also had a few regular BDC drivers on show, Andy Arnott giving passenger rides for the whole day.
The ever faith-full Starion of Ash doing more laps than most put together, even i had a few laps in the ol girl and was pleasantly surprised on how well it go's despite the horrendous amount of hammer it has had over the last 2 years.
Minni also out giving passenger rides all day and also securing some new drift customers for the team, a great effort also from the team Hawkins, Dave sorting the start line, Chris teaching and Kenny sorting Photos as Ammo was able to use our spare car to do some laps himself, SOZZA mastering the pit lane all day AGAIN, what a star, and Kayleigh organising the ODC cars and drivers for our star judge 'CHUNK'
follow pics on the driftworks forum.


2nd - 3rd July 2011
norfolk drift team at the BDC round 3,
Myself, Minnie, and Ammo have spent the weekend working the pit and grid lanes for the BDC at round3 at Tee-side,
Once again we have worked hard along side the BDC promotion to help everything run smooth, as drifting once again is shown in a very good light at championship level,
also helping with track marshal duties was Brian (who ate the pies) Ringwood,
once again our local drivers were on form(see BDC web page for results)

June 18th
With appaling weather,( it rained all night and didn't stop until 1 hour before start time) andwith several other events going on the same day we were pleased to see over 50 cars arrive for the June practice day, as well as the die hard regulars we had several new faces and cars on hand to try out the norfolk track, the weather was a bit changeable and it was the first wet start we have had for well over 2 years, the concrete surface at norfolk does dry very quick and despite 3 showers the damp only lasted for 'minuites' and we were back to tyre smoke!



as ever the faithful and skilled AMMO arrived the night before to help us set up, and team Hawkins spent the day helping out trackside, great effort as it is a long journey for the guys andthey were not driving as Chris is waiting for a turbo ready for the BDC roundatTee-Side next month, and once again Sozza spent 99% of the day working the pit lane for us,
thank you to everyone,
Malx


New to me is the company name of Jam-Sport, they are renowned in the Ford world of track and race for car set up, build and engine work, they have been involved with the engine ECU set up for the Morley sport escort and now are looking to enter the drift world.
These guys were introduced to us by Jay Fowler who was a big part of the build of Ben's escort.
As we know the rear wheel drive days at Ford are long gone so the owner is 'up for' some jap style tuning,
We have the loan of Matt Cawley's IS200 Lexus for the foreseeable future, so we have talked Jamie at Jam-Sport into helping us set up the car and also to map the engine to its proper spec.
Matt had lent his car out previously to Chunk and later on to Drifter John Stevens,
As the car is new to us, and to make sure that it works to it's potential, we really needed to strip out the suspension and do a full 'nut and bolt check, for this part i asked Jay Fowler for some help to which he has agreed to do this for us FOC, the plan is to get the car right on song and campaign at BDC next year, with also the chance to run the car at shows and events on behalf of The owner,
Also this is a route for Jam - Sport to show their metal in car tune and set up, so between us all we hope to be melting tyres REAL SOON,
for the latest laser suspension set up and rolling road have a look at their web page on the NDT approved companies page,
the lads are based in Northampton, more details and pics as we get them.
Stiggywill be helping out with this car and we will feature his new workshop space very soon.
June2011

Norfolk host to the BDC in May 2011, as ever the event ran smooth with a little help from the norfolk drift team, and ran well on track as well for our drivers, Chris Hawkins, mittsi matt Crackers and AJ

Main man, Jap-speed Paul




Sweeps, organizer and everything else really


Shane to malx, did you want to borrow my hair trimmer mate?



Chunk andJulian Smith at the norfolk round of the BDC 2011




Interview with the pit controller!!!

loads of pics and interviews on driftworks NOW,



New's all good from the Cunninighamsgarage on progress with Malx passenger ride special, body and roll cage in and looking good
coming to a practice day SOON

May 7th
I no i say it after every event that we run, BUT
We all do it for the drivers andthesport, we all go home knackered but with a real sence of pride at the attitude and commitment from all that is norfolk drift team,
we have intruduced so many new people to drifting, several top flight speedway riders and officals asking to have a few passenger rides, andreallysmilingafter, when you think how quick they go on track,with NO brakes thats hell of a buzz for us, we did more passenger rides yesterday than ever before and we will see a few of them back in cars of there own without doubt

A big thankyou to SozzaforrunningthepitlaneALLDAYwhat a star, make sure that you give her a thank you as you drive past next time round,
Minty tyres again looking after us, they go not stop all day and have always got a smile (under a load of tyre dust!!) for everyone, tyre fitting leg-ends

Ammo, who always rocks up the night before to help all the set up,and cook, and then spends all day doing all the jobs we ask, and takes photos, and now stickers to

We also need to thank Minnie for doing everything not just on track days but sorting bookings and paperwork

Mark and tarmac for keeping the red BM going.
Brian and Callum for marshal duties,
And thanks to Chunk for judging and advice and mallory Bob for helping out again,
The staduim staff that look after us and the cafe, and Big nath for all he does, a lot that you dont see
man of many talents
and of course you guys and girls for the never ending support

Read the callum's view from the start line on his very own page.

Note from Mr Impact

Imthinkingoftryingsomething different with the DVDs now...rather than just pile random footage onto a disc, Im going to try and do personal ones of each car. Ive had a few people ask about that anyway, and in theroy shouldnt take any more time to edit than a normal DVD.

If anyone can think of a group of cars / mates that could be put on the same DVD, let us know as that should make it easier. Cunningham Garage for example, I'll group all their BMWs onto one disc.

I'll still do a couple of uploaded clips, as usual, but we usually collect over an hours worth of footage so Im going to give it a go at doing personal DVDs. Cant tell you how long they will be until I do them, and if it all goes ok, will film more stuff next time. Should have some 'roof cam' footage from Malx' BMW aswell, but I havent seen it yet.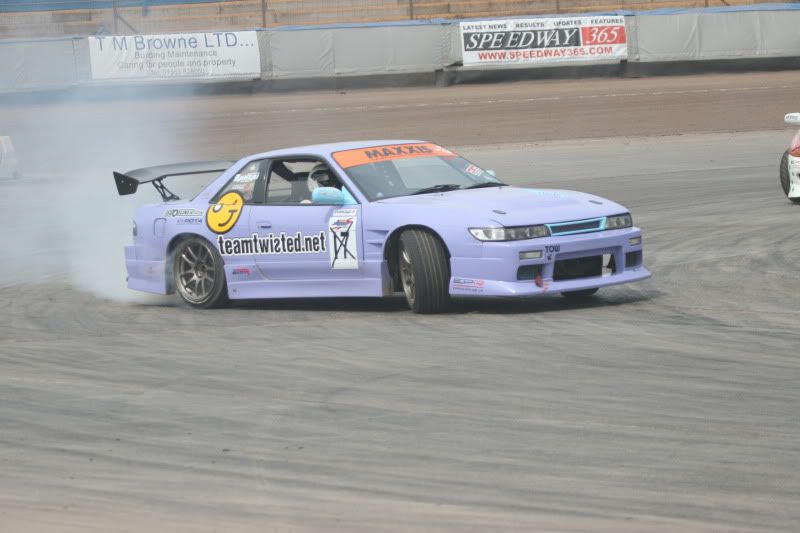 With several of our regulars away on their hols we had a few BDC driver along, checkin us out before the next round of the BDC at the end of May, Kirsty getting smoke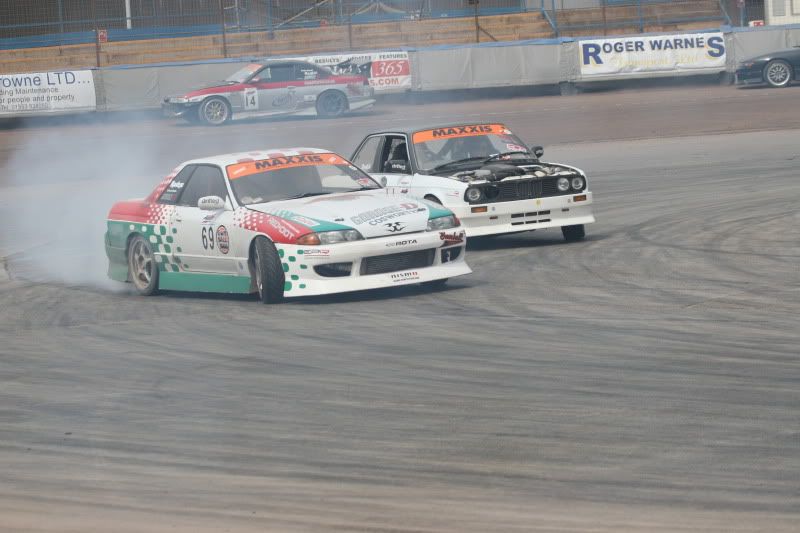 Belinda and Pete Barber trying out a bit of twining practice And And (14) waiting in the que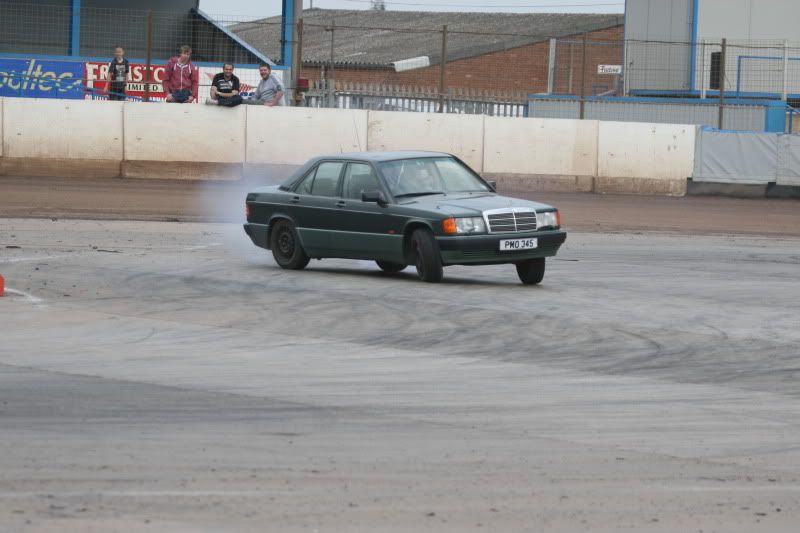 and to prove a point that we encourage everyone.......................our most senior driver
at a bit over 65



to our regular youngest driver, soon to be 13!!!
and as soon as i get a few shots of the green team, including a Malx moment!! will post


New pages now added, have a look

April 10th
With another monster turn out, and on a day you would swear was mid summer off we go again for the norfolkarena drift practice, joining us for the day were more than a few drivers from the BDC camp keen to try out their cars before the 1st event on 22ndofthismonth, a few teething troubles for a few but a good day had by all, the driftworks media page has some good shots, andagainwetriedoutthebumper cam with Mr Impact to good effect, we will link in asap.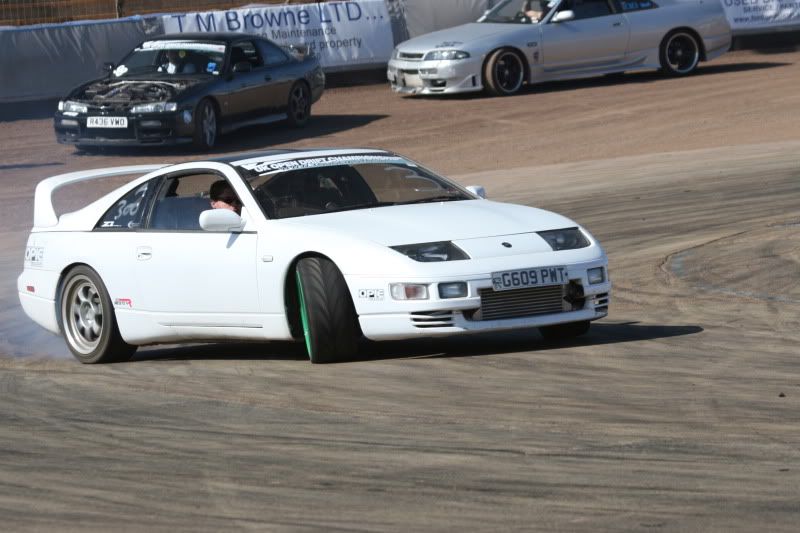 nice to see our regular long distance travaler'cowpatmatt' back out after a big accident at another track last month.
AND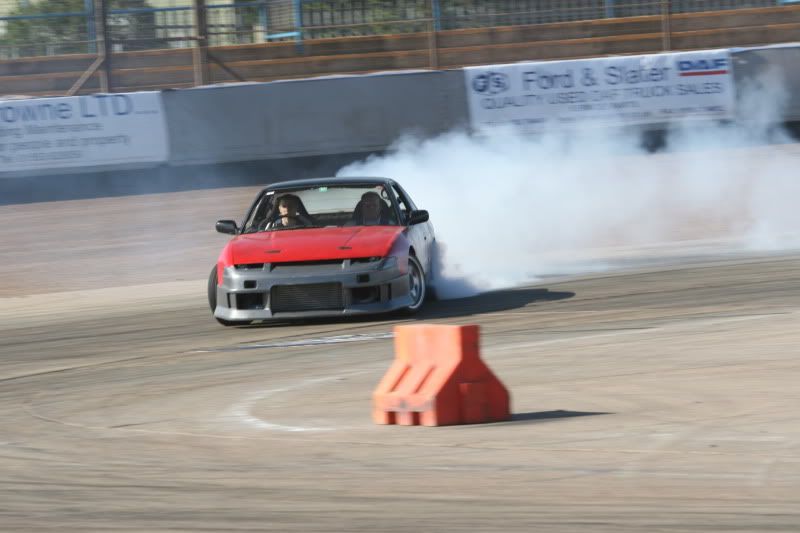 the hot weather helping to get the tyres smokin!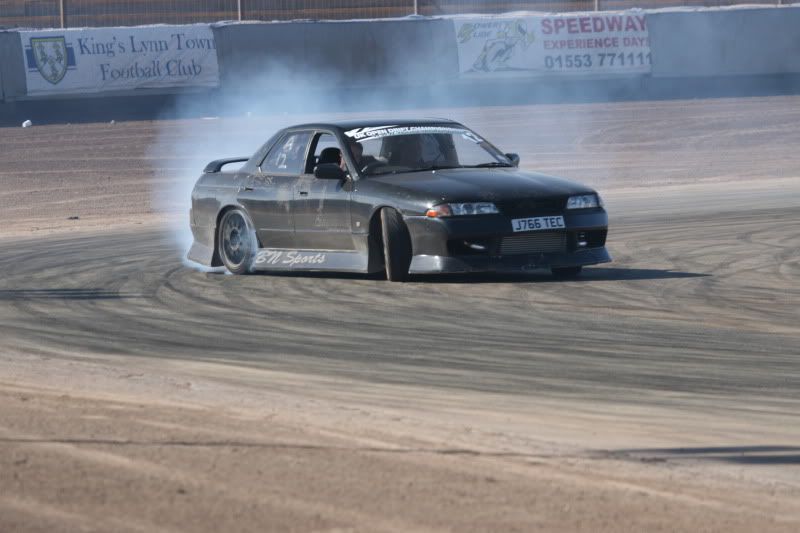 and the returning scotty J with his new machine, bit of a step up from the MX5 and really going well.

March 12th Practice Day.
Another great turn out of cars for this event, a few regulars missing but numbers still in the 50's with several new drivers and cars,
Also once again some of the elite BDC drivers coming along to have a relaxed day of skids, i will have some more pics for the gallery soon.
Ammo now has a site of his very own and all his pics are sorted and posted up, looks good.
here are a few from carlrst's mate.

The First practice day 20th Feb 2011.
And a fantastic turn out we had,54 cars and a few new drivers as well for our opening practice day,
We set the track a bit tighter than normal as the weather had not played ball and rained all day Saturday and left the shale very wet, myself,ammo and minni spent a few hours sat night sweeping water off the corners and down the main drain, the rest of the track was however all clean as always sorted by our mate SWEEPY,
the biggest clipping point in drift history is the shale pile that sits most of the year at the far turn, its never a problem as Buster always sits it before the apex for us, the shale is used during the year and is kept on the concrete to let it dry out before being placed on the speedway/stockcar track.
Sunday morning was thankfully dry and witha bit of wind dryedthetrack well following the constant rain, the shale track was also smooth and firm so on and off was not an issue,
morning practice ran well with the young wip'r snapper, Callem working the track & flags.
Hails & tarmac working the pit lanes, Hails also co-ordernating the ODC drivers.
I had decided to run the ODC judged runs in with normal practice, we had a briefing at lunch time and ran the judged runs from 2pm.
My good mate and all round sound bloke CHUNK had agreed to carry out the judging for us,
the driving standards were very good with some heroic attempts at hitting the cones!! not the idea but fun none the less.
Also turning up for a run out was the top BDC driver 'BAGGSY' in the japspeeds14, although he seemed to have more fun in the school BMW!!!
nice to see the top drivers mixing it with the regulars.
so in all another good day had by all.


Norfolk Arena will be again having a revamp during the 2011 season, nothing new there as Buster and the team are nonstop every year building something new, last year it was terracing around the main road bend, thousands of tonnes of concrete going in and some new hospitality suites.
The plans this year are some new indoor viewing areas and integral bar / cafe along the home straight, andwith the news that the speedway team are 'going up' a league it's all go for 2011 at norfolk.
The Roger Warnes Stars will be racing in the 'Sky Sports Elite League' covered by SKY TV andtheworldcupwillagain have a round at norfolk in 2011, in no small part thanks to Nath for helping to sort out a great event last year (JAN 2011)

ODC, open drift championship (5/1/2011)
We are looking again to send 10 drivers to the finals at Mallory Park, we are not holding any qualifying rounds at norfolk, this is the same as last year, we will be running our practice days as normal, we are however going to watch drivers over a set period of time at each practice day and then offer the drivers we think are best suited to REPRESENT norfolk at the Mallory ODC finals.
I have stated in the past, and there is no change to the fact that I will not be running EVENTS at norfolk, we run fun days / practice days.
This is because the stadium hosts events run by the BDC,(british drift championship) that is their Main drift Event during the year,
We / I support them and help out at the events they hold, i also support drivers that want to enter BDC with any help and advice i can,
Drivers wishing to enter ODC also have my blessing, myself and the team will work our socks of to help drivers reach their goal, i have been lucky enough to have competed in oval motor-sport all my life, and have notched a few championships on the way, i didn't do it alone, it was a team thing!
to that endi understand how vital it is to have support, so those that want to compeat in the up and coming sport of drifting we will be proud to 'help were we can'
To make it as fare as possible we will have a guest 'judge' watching the drivers that hope to represent norfolk, i am to soft andwant to send everyone

My belief is that the ODC will help new drivers get a start into the world of competition, we try our best to emulate it at some of our practice days with clipping points etc, it is and i hope it stays a grass roots competition, a feeder into the heady world of the BDC


December 18th,
Another great day at the norfolkarena, withthecountrycoveredwith snow and ice we really didnt expect a turn out of that many cars, However over 35 made it to norfolk for our last run out of 2010,


First job of the day, drivers briefing

We had a little ice in places which the track staff 'salted' and the shale was as hard as rock, but other than a bit of dust tyre noise started straight away,
With several cars anddrivers, 'decorated' and with festive clipping points donated by Brian and Ammo the day was ON.


Ammo really trying to do the santa routine, replacing the reindeer with the tractors was a nice touch though!!

Some new to norfolk drivers took to the track andwere pleased withwhat they found, like we always say, come and try it, you WILL like it.



We also managed a camara car for this one, Mr Impact fitting 2 to our S14 andthenwe 'got in the mix', the preview footage looks good, i am sure that Nick and'Dad' with have the dvd out soon, i enjoyed the filming as much as the driving, good work guys, put on a great show.


Minty has been a star for us this year looking after all our drivers in the tyre fitting dept

Callum joined the ranks of STAFF for this one anddid a grand job in very cold conditions,
we were awarded again by the owners and had the floodlights on for the last hour



EPIC DRIFTING AT NIGHT

So as we see out 2010,let me wish you all a merry Christmas and a GREAT New Year, not just from me but from the NORFOLK DRIFT TEAM
hope to see you again in 2011

2011 looks to be even better than the last, we have again got the backing of the owners to run drifting at norfolk.

ODC,
The ODC (open drift championship) is a championship run for the amateur drifter, it is aimed as a feeder into the bigger championships like BDC and JDM.
Our very own Chris Hawkins entered in 2010 and in November this year gained a Pro licence with the BDC, so we no it works
We at norfolkarena will be sending 10 drivers through to the finals, we will not be running a comp but we will judge nominated drivers over 4 practice days, we will be using guest judges to score for us, Chunk has kindly offered to start us off.
Our reason for nothaving a set competition day is that we ONLY run practice days, we also support BDC and their championship rounds at norfolk,
We do have a few drivers signed up for ODC, the cost for the year is £10 with ALL monies going to ODC, we will not be charging a fee to run at norfolk.
I will confirm before 2011 but i am hoping that we will have a guest judge to watch drivers for a set period of the day, I will make sure that all the drivers that have registered with ODC get a set number of runs in that period,
we also have a few GIRLIES entered.


Following the last drift day on the 13thNov, we have been inundated with requests to run again before the years end.
WE now have another day planned on the 18th December, after just 2 days we are already booked up, the stadium owner, Buster has offered to flood light the track for us again to extend the day.
Having raced for years under lights with the stock cars I had forgotten just how much it changes the atmosphere for the better.
So we are looking forward to another bumper turn out of cars for this one.

BDC licence day 20th November 2010
CONGRATULATIONS TO
Chris Hawkins


Crackers




and
Mittsi matt



All norfolk regulars and now BDC licence holders.
On a difficult track layout, andwith not the best weather conditions, the norfolk drift team members managed an impressive display in front of the judges to gain there licence to compete in the 2011 British Drift Championship.
We had 7 drivers attending and sadly a few nerves crept in at the judging stage for a few but they by no means disgraced them selves.
The drift team staff were on hand to run the track and pits for the BDC, the judges for the day were Sweeps(BDC organiser) and Chunk (Guest judge and top flight BDC driver), the format was different to our type of track days, the whole day running along the competition route as used by the BDC,
set times are issued and the drivers are allocated practice time slots, in this case 45 min sessions,for there practice runs, the start of practice was 1 shot laps, later in the day running 3 laps continuous.
After the lunch break all drivers are briefed for the judging, from the start line(run for the whole day by minni) drivers complete 1 full lap past the finish line, (Jay withthecheckered flag), back round to the start line and stop.
All drivers getting 3 laps, judging was scored for consistency, entry to the first corner, transitions and clipping points, add in some showmanship and GO for it.
Drivers that managed all of the above are awarded with a pro licence, small mistakes but good car control semi pro, when i say mistakes that sound harsh, and to the spectator probably not even noticed.
The weather!!



we have been lucky at norfolkall year anddamp for an hour is as bad as we have had, on the 20thNov 2010, not so good, very heavy mist all day resulting in a wet andslipperysurface, that coupled with a very tight track layout made the driver really have to work hard in their cars.
Chris looked comfortable in his new car, having still to put the final bits on late into the night before!! was not the best preparation, but after a 'chat' following the first runs, Chris was on the button for the remainder of practice, and when it came to the judge runs he was 1st in line to go, a faultless 3 runs, and a wave as well pleased the judges and scored points needed to take a PRO licence,
Crackers runs were also very neat and tidy scoring well to take a semi pro,
Mittsi Matt after trying virtually every car in the pit lane in the end used Chris Hawkins car and also scored well to take a semi pro licence.
Brian working hard around the pit lane helped us,as a team have a great day at norfolk arena,
Ammo,Minni and Jay having to suffer the cold all day on track, Hails and Kayleigh sorting pit and parking.
For me, cleaning windows!!,
why? because we care and the drivers needed to see were they were going,and just trying to help out and give advice were i could, Big Nath looking after the stadium stuff,
So between the BDC andnorfolkarenastaff i think a successful day all round.




open practice day on the 13th November at the norfolkarena Kings Lynn
We had been fully (over)booked for this event for over 2 weeks,
we had a monster turn out with over 60 cars taking to the track over the day,

We had the last 2 hours under the flood lights which was cool and nicely captured here by norfolk local MONTERx7



We fully support the BDC (British Drift Championship)
THE BDC will be running a licence day on the 20th November at norfolkarena

We will be running as per program at norfolk on 13th Nov, The BDC are at Norfolk 20th Nov for 1 of their licence day's,
I will be there in a support role for any of our drivers that need advice or help (for what it's worth) on the 20th


Bob

at Mallory Park is putting on a festival of motorsport,
supported by the driftworks fourm this is going to be hard to beat for value for money,
Tickets for the weekend are priced at £35, but thats for everything!!
follow the link for a lap roundMallory with

Phill Morrison from

driftworks


Driftworks S15 - AwesomeFest 2011 Promo
The norfolk drift team will be there helping out and with a stand showing some cars and some KINGS LYNN All Stars speedway bikes,
going to be a hell of a great weekend
The ticket price includes all the activities (excluding drift cars)
Fun Fair, live bands,wall of death, moto X, skate boarding---ON the race track!!
and loads more.






I also strongly recommend a day at, Mallory Park
a great contrast to our home track,



Winter specials
The next date for full circuit drift days is,
27th January.
Full Dates on home page

Bob at Mallory and ourselves at the norfolk arena welcome spectators and we DO NOT CHARGE for Spectators

All days are as per usual, 30 car maximum.

All days are on a first come first serve basis.

All payments by paypal to: inglisr@sky.com

Have a look at this and the price, ok it maybe wet and cold but still a great place to drift /drive, I and some of the team will be at these events helping out were we can, tuition is available if you ask


Malx

We also have supported the ODC this year and we had 5 drivers representing norfolk at their finals at Mallory Park

NEWS for the ODC will be on line soon.

I am slowly adding to the boys and their toys page as well as the girlies e/mail me if you have anything you would like to add